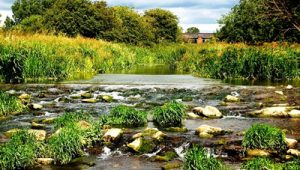 Burton Latimer Pocket Park was established in 1995 on the flood-plain bordering the river Ise. There is a wide diversity of wildlife along the riverbank, and within the surrounding grassland and hedgerows.
Access to the park is from Station Road, and the site is also crossed by public footpaths to Isham and Kettering.
Annual duck race
Burton Latimer's famous duck race and fete takes place in the pocket park in June each year.
The town council has very reluctantly decided that this popular event will not take place in 2019. The two main reasons for this are the closure of the Station Road bridge – which would have a significant impact on access and parking – and the need to give the heavily trampled ground in the pocket park more time to recover from previous years' events.
Volunteers needed
The Pocket Park team requires additional volunteers to help run and organise events and to carry out maintenance work that may become necessary from time to time. All equipment is provided – you just need to supply your own energy and enthusiasm. For further information, phone Fergus on 07767 398386, or Helen on 07985 346113.