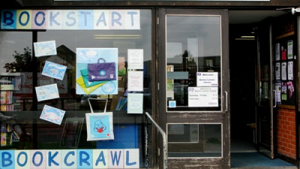 We organise a number of activities that are specially aimed at families with young children.
The sessions are all about child development, and getting young children 'school ready'. Parents, carers, childminders, and grandparents with children under 5 are welcome to attend.
The sessions include…
Rhyme time + 'Play & Learn'
These fun sessions are for the under fives and their parents / carers. Join us each week during term-time for 30 minutes of rhymes and movement.
Tuesdays, 10.15am – 11.15am: Play & Learn – for under-1s
Thursdays, 10.30am – 11am: Rhymetime – for toddlers aged 2+
Thursdays, 11.30am – 12 noon: Bounce & Rhyme – for babies
Fridays, 10.30am – 11.30am: Play & Learn – for under-5s
Bookstart
This national scheme aims to encourage every child to have owned their own book by the time they go to school.
Further information is available from the library.