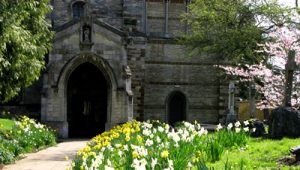 St Mary's dates from 1147, and contains many rare features of architectural value – including exceptionally precious examples of Medieval wall paintings telling the story of St Catherine, a medieval piscina, and one of the few surviving Elizabethan alms boxes.
At St Mary's church we have committed ourselves to work with the other churches in the town to make the love of God known in Burton Latimer.
We build on firm foundations, as people have worshipped on our site since Norman times – and probably, for considerably longer than that. But our concern is for the current community in Burton, so if you would like to explore how the life of faith can be meaningful in the 21st Century we would love to welcome you.
Our main Sunday service is a 10am celebration of the Eucharist (Holy Communion). We have a Junior Church and a crèche, so children are particularly welcome – as are people of all ages.
Location
Church Street, Burton Latimer