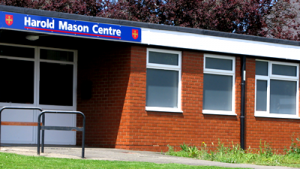 Burton Latimer's Civic Centre is named after Harold Mason – a local man who sailed in the convoys across the Arctic Ocean between Britain and the Soviet Union during the Second World War.
Thousands of sailors were killed during the missions – which Winston Churchill is said to have described as 'the worst journey in the world'.
In 2014, at the age of 89, Harold received a Ushakov Medal from the Russian ambassador in recognition of his service.

The Centre provides a home for a number of locally-based organisations, services and activities – including…
The council office and council chamber
Town council meetings take place on the 1st Tuesday of the month in the council chamber – which occupies a large, multi-purpose space at the heart of the building.
Burton Latimer Heritage Society
The Heritage Society – and its museum – is located in an accessible suite of rooms within the new Centre.
Rooms for hire
The Civic Centre has a selection of rooms available for meetings and other events during the daytime or evening, from as little as £10 per hour. Facilities include:
Car parking
Disabled access, and wheelchair-friendly layout
Tea & coffee making facilities
Large training room for hire
Wi-Fi available on request
The building is wheelchair-friendly, and the rental for the various office spaces on offer includes car parking, heating, lighting, and access to tea and coffee-making facilities. Wi-fi is also available if required, at a separate charge.
For more information about renting office space at the Civic Centre, or hiring a room – or to discuss your needs in detail – please contact Town Clerk Helen Denton-Stacey (t: 07734 793986, e: townclerk@burtonlatimertowncouncil.org.uk).