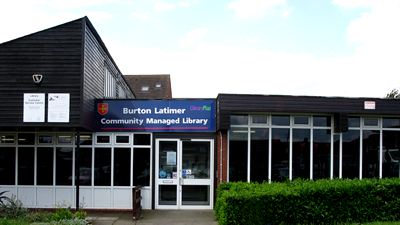 Burton Latimer Library is now a Community Managed Library managed by Burton Latimer Town Council and run on a day-to-day basis by a team of volunteers.
It is free to join the library and to borrow books. We have thousands of books, plus audio books on CD, and DVDs for you to choose from. We also offer:
Help for those with special needs
Disabled access
Reading aid: handheld magnifier
Computer facilities & online access
3 computers with broadband internet access
Free WiFi
North Northamptonshire Council website access point
Colour laser printer
Scanner & photocopier
Regular local "surgeries" run by…
Wellbeing assessment & advice (by appointment)
This free service offers advice on weight management, emotional wellbeing, financial support, social inclusion, smoking and alcohol, housing support, employment, and adult learning. After an initial assessment (which can be done online – or by 'phone, on 0300126 5000), eligible customers are offered an appointment with an advisor. Further information is available on the First For Wellbeing website (www.firstforwellbeing.co.uk), or via email (info@firstforwellbeing.co.uk).
For further information or to comment upon our services, please use the contact details on the right.