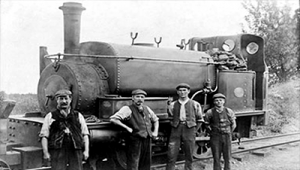 By the time the Common Land on the Wold was enclosed in 1805, the area was in an economic depression. Agriculture was not flourishing; lacemaking and weaving were also in decline.
Ironstone quarrying
The major changes came about fifty years later, with the arrival of the railway – which connected Burton to London and the industrial midlands. Then, large ironstone deposits were found in the district and quarrying began around the village.
From quarrying to light-industry
In the last part of the 19th century, two new industries arrived. By 1885, the first four clothing factories had opened, followed in 1898 by the first shoe factory, and Burton grew rapidly to become a small, thriving light-industrial town.
Around its edges, the quarrying carried on, until the pits were worked out in the early 1920s. Some extraction of limestone and clay still went on in the northwest of the town, on the area now occupied by Morrison's distribution centre. By the early 1980s however, it was over.